The expo's restaurants (2019)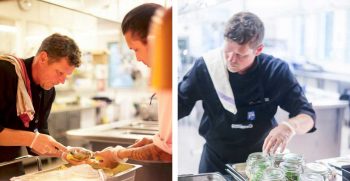 Order books with tickets for lunch through Mittia client zone for simple administration during build-up and expo days.
Each ticket is valid for 109 SEK incl. VAT and can be used in the expo restaurant and at nearby Hembygdsgården Wednesday to Saturday. If you wear your exhibitor tag you will have access to separate line and reserved tables in the expo restaurant Friday and Saturday. The tickets can also be used for payment at the various fast food points on the expo grounds. We also have books with tickets for alcohol drinks in the expo restaurant Thursday evening to Saturday.
Please note! You can return non-used tickets for deduction on the final invoice provided you return them at the expo office before 6PM Saturday August 17.
Important! All serving of alcohol is regulated by Swedish law. If you want to serve alcohol in your booth – please contact Mittia restaurant partner via +46 651 211 90 (option 6) in good time before mid June. They can also assist with pre-ordered lunch boxes to your booth, coffee, snacks and more.
BUILD UP-BBQ THURSDAY EVENING!
When your booth is ready, be sure to have booked seats at the expo restaurants bbq-evening. Book via +46 651 211 90 (option 6). Price: 290 + VAT. (No drinks included.)
During the expo's opening hours the expo restaurant serve lunch buffet with three different courses as well as salad buffet. (Lunch during build-up days is also offered.)